Singing For Love is off to a great start this year. The eager group of kids have all had some previous exposure to the ukulele and/or other instruments, and we've been moving at roughly twice the pace of last year.
Most referrals this year came through Nellie's Shelter, meaning their participation isn't necessarily related to parental involvement in a PARS program. While we've talked about the history of music in helping individuals to overcome sadness, physical oppression and the effects of violence, it's not with the same personal attachment and focus as last year. As always, we are focusing on dignity, respect for self and others, and personal expression.
On the first day the children told us what makes them happy, and what they'd like to write about. Canada, and Canada's 150th birthday received the strongest interest. So we asked what makes them happy about Canada… and their answers are the stuff of song!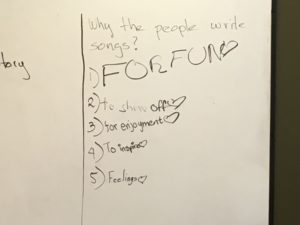 We worked on learning the parts of the ukulele, proper hand position and  already 6 chords and a C Major pentatonic scale across 3 strings. This week, Rosy asked, "Why do people write songs?" She then outlined the basic structure of a song, suggesting different roles for the chorus and verse.  The kids then put their ideas  on the whiteboard.
We picked up the ukulele and I showed them where to find the remaining 2 notes of the C major scale. We played them in order and then I asked the kids to make up little motifs that match the syllabic flow of some of the ideas they'd written. Some were willing to show us what they came up with, and they all said they'd work on it more at home. Rosy provided one more example of developing an idea into a lyric with a melody, I harmonized it with 3 of the chords they know and… we played it!